I can't seem to find it anywhere. Did it get deleted?
Seems to have been. Yeah, that was probably me. I am out of practice…oh well, time to create a new one!
::edit:: Renamed this thread…it's like it never happened waves hand in a Jedi-like motion. Massive apologies to everyone for my being terrible.
Seems like this new thread has kinda died. Time to kick off. Got these lovely items in the mail yesterday.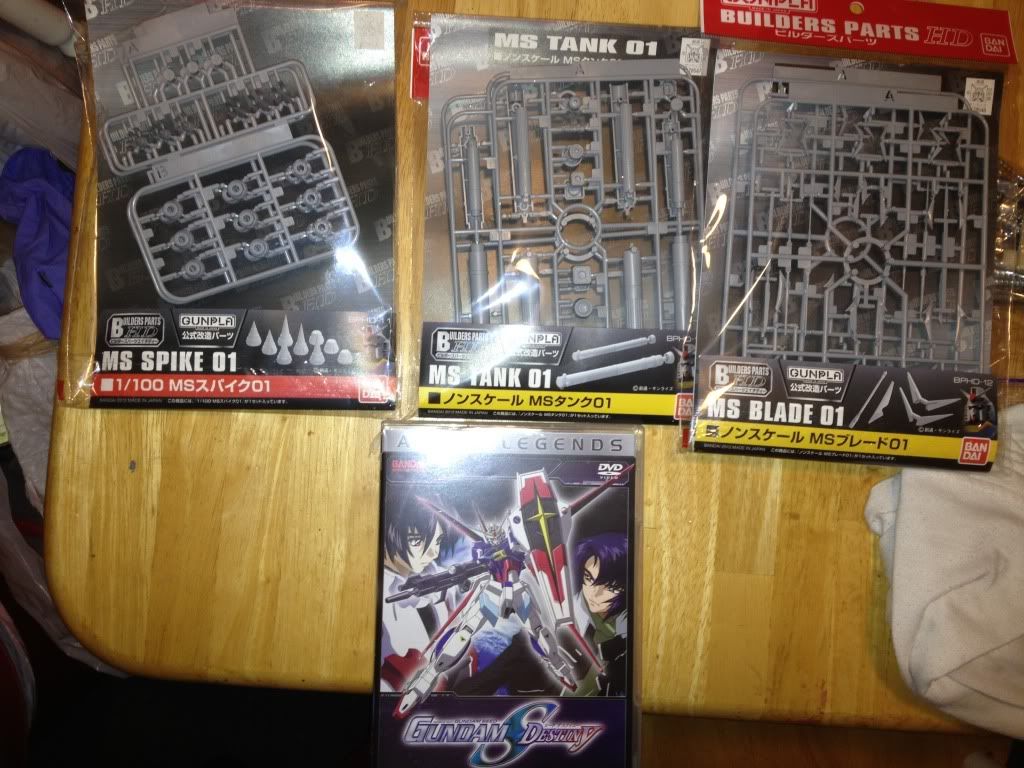 I think this thread needs to be stickied so we can find it easier.
I don't have pics, but some more Koto weapons arrived a few days ago, this time the Long Rifle set that came with a big axe and the handguns set.
Also, my 1/72 VF-1A/S Valkyrie from HLJ along with its Super Parts shipped out some days ago.
Got a notification from Nippon-Yasan that they shipped my Limited Edition MG Crossbone Ver. Ka some days ago as well.
Paid SAL so I probably won't see them until the end of the month.
Last one isn't a kit, but it's related to kits: My Badger Patriot and its quick-disconnect adapter should be here today.
Don't be too sure. It took SAL 10 business days to deliver my HG Graham Aker's Custom Flag 1/144 from Korea to my mail (yes, not customs but mail) whereas FedEx required 2 weeks even to get it past the customs. Ultimately, I received the package after 3 weeks of waiting.
Three weeks sounds normal for SAL. It usually takes longer for us in the States because they get held up in a sorting facility (either NY or LA for mine). After that, it's just two or three days until I get the inevitable pink slip from the post office saying I have to pick up the package from their cave.
Hopefully it's the case for my deliveries. It's about one week now since shipping so I gots more waiting to do.
Pre-ordered this beauty on HLJ yesterday
You lucky duck. I want that kit so badly. But I have to much in my back log already.
Went to Gundam Planet today. Really only wanted to buy a few pots of paint, owner commissioned me to build/paint him these hangers… I think i'm going to loose it from all of this repetition. Most of the paint was taken for this. Also he gave me a Cannon Tortoise for my bday. XD The other box is the lighting parts for the hangers.

@Squee, wow, that's a healthy number of hangars to do. At least you got a Cannon Tortoise out of it, haha.
My Crossbone X2 Ver. Ka arrived yesterday:
Very surprised it came with waterslides. I thought it would come with dry transfers like the X1 kit since it's essentially a repaint with an extra set of runners for the lance.
Wow, just a re-molded version of the X1?
Oh god, how overpriced.
Still a neat kit you've got there!
Yeah I was rather surprised that the Crossbone X2 was a remold. I thought that I was a whole new kit. However, it is a really cool looking kit. That cloth looks really cool.
I agree, it's pretty darn pricey considering you don't really get much in addition, but since I didn't get the X1 before, I figured it was worth it for me
The cloth reminds me of the cloth used for cleaning lenses… Kinda tempted to try out the cloak piece on it from my DOTM Voyager Megatron, haha.
Yeah not having a X1 would for sure make it more appealing. However I'm not a huge fan of the "Space Pirate" thing. So It's not really the kit for me.
Its general bandai practice. Look at what they did w/ the Tallgeese 2, almost 40 more for a new head, and some waterslide decals. With the x2, at least they used the used the plates from the full clothe kit so you get the extra beam effects, a new head, the shot lance, and a nice set of waterslides.
@Dlinker: The tortoise isn't my payment, it was just a bday present the owner gave me. Really awesome guy who loves to support this hobby. I don't know what i'm going to take for building the hangers. XD
@Squee, ah, my mistake then. I thought it was one of those wink-wink kind of payments that's disguised as a "gift", haha. I'm a big fan of Gundam Planet, especially after a particular box of goods I ordered from them came in with several contest cards last year (I was only expecting one or two).
I'll admit, I never read the Crossbone manga even though I did like F91 which is the predecessor in terms of timelines and I didn't like the design of the Crossbone Gundam either. But, like with the Turn A, the design grew on me and after a while, I kept saying, "I want that crazy pirate Gundam on my shelf". Still not sure what I'm going to do with it yet so on to the backlog pile it goes.
To go back on topic, I forgot to mention my Wings of Light effects + stand for the RG Destiny came in from Samuel Decal last week. I couldn't shake the tiny feeling that perhaps I got robbed by Bandai due to them costing as much as an HG kit…
just ordered 4 kits for my brother's birthday.
HGUC GM Cannon II
HGUC Zaku II High maneuver type II Shin Matsunaga Custom.
SD Guncannon (New version)
SD Shin Kousanson Ez8
I'm pretty happy with these kits price wise. All 4 of these together were about $32.
Nice! I actually don't have many grunt suits in my collection, and that GM Cannon II would make an excellent addition.
It looks pretty promising. It's only about $12 on HLJ and it's one of my favorite grunts ever.
It's not Gundam but I just got my Macross VF-1A/S Variable Fighter and the Strike Parts set in the mail today from HLJ. I guess it's a Bandai product at least. I'm pretty sure I'll be able to start the kits this weekend. It took about 2 weeks SAL. I had preordered them and had them shipped as soon as they came in.