I double checked the rules and saw nothing against a firearms thread. I am a firearms owner living in the USA and I wanted to see if anyone else was a gun enthusiast on gundamforums.com or wanted to discuss firearms. I ask a couple of things to keep the conversation on topic.
Rules
Please keep political stuff to a minimum. Unfortunately with gun ownership comes the political strife over them. I think thought out generalizations are ok (such as "a certain group of people want x and y is why") but political talk can quickly degrade into a nasty flame war. A comment like "Such and such group are a bunch of retards" is probably best left unsaid, even if I agree with you.

Please practice safe handling procedures taking photographs. Unload your firearms when not in use for pictures and don't point it at anything you don't intend to destroy.

Don't post anything illegal. And by illegal, I mean stupid stuff like pointing guns at people.
That's all I can really think of excluding a moderator jumping in and adding anything.
---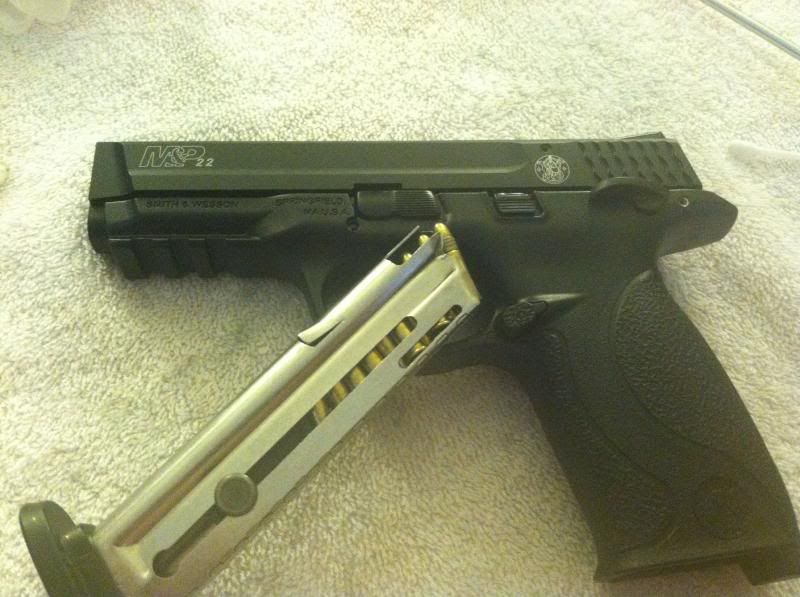 I own a Bersa Thunder 380 plus and a Smith and Wesson M&P 22. I'm looking at getting a .22lr caliber AR (armalite) style platform for economy plinking (shooting targets and cans). I found a store in town that will build me a platform with a red dot sight for $385. It was pretty solid and surprisingly light. The Thunder 380 plus is a .380 ACP handgun with a 15 round magazine. It is my conceal carry weapon and I have 15 jacketed hollow points in the magazine. In my country it is legal- and in most states a fundamental, inalienable right to keep and bear arms in defense of ourselves, our loved ones and the state. My M&P 22 is a .22lr handgun I use for shooting targets. I like this particular pistol over other .22lr pistols because usually it eats whatever I feed it and it's accurate. I've had problems with it though- but the issues have been fixed. My one complaint about the pistol is that the 'wing' safety is very annoying.
I may upgrade to a 9mm in the future because I am able to handle 9mm recoil a lot better now. However- contrary to what my father says- I notice a difference in recoil between .380acp and 9mm. My all metal Bersa (rubber grips) handles recoil much better, but is small and light enough to offer capacity and accuracy without sacrificing concealability or reliability. It was enough of a good buy that I recommended it to a friend who buys almost exclusively Sig Sauer, and he fell in love with the Bersa CC model (a smaller version of the plus).