Started work on a MG Wing Gundam EW a few days ago. Here's what I've got so far.
Wow man. That is looking pretty cool so far.
Wow, i really like that color scheme. The muted white and grey go together really well with the red colors.
I agree, that color scheme is gorgeous. I love the ear bits.
Wow, that looks finished already!
Looking nice! Look forward to seeing this built. Agree about that colour scheme, very hot!
It's been a while since I've posted anything, so here's what I'm working on right now.
Looks clean and spiffy. Painted already?
beautiful job man, do you mind if i ask what you did for the blue is a single color or did you mix it?
Games Workshop Regal Blue with a touch of black added
I'm digging these color schemes. Are you going to be doing all of Operation Meteor crew like this?
In colors different from their normal schemes, yeah. Probably the Tallgeese as well, but I've no idea what to do with it yet.
Here's a thing I did yesterday. These heat hawks don't normally accommodate the large blade on the double headed configuration. I looked upon it and said "No, this shall not do."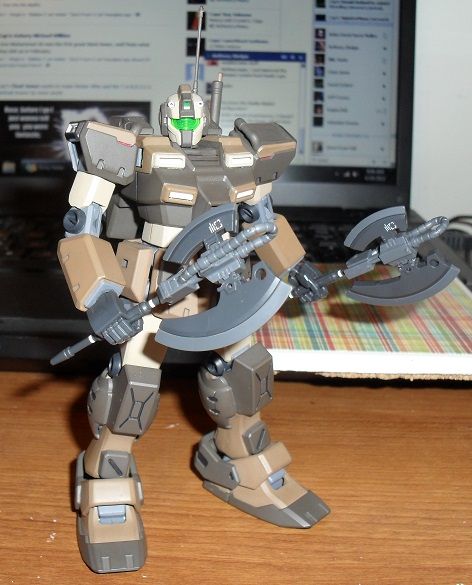 Technically, the GM is a WIP too. I'm not finished painting the hands.
Hmmm, so that's how the heat hawk looks like with with both heads on. I should try it out on the weapons sets I have yet to open.
Is that a little bit of paint bleeding through on the bright tan section on the shoulders?
Overall, I love the smooth finish. Seeing it makes me want to hand paint badly.
If you're talking about the reddish places, that's deliberate. I'm probably going to add a bit more red detail here and there to tie it together.
My mistake, I was actually referring to the upper bright tan sections on the torso (what the heck was I thinking, referring to the shoulders).
I can see a bit of that bright tan at the bottom edges bleeding into the dark brown.
Oooooh, that. Yeah, I hadn't even noticed until I was resizing that picture. I'll have that taken care of, I assure you.
really cool mods on the heat hawks! The cables look a bit weird though but still work. Color scheme kind of reminds me of one of the maganac corps.
I love that color a scheme. And it makes sense on the heat hawks. Where else would they go?
I actually didn't do anything to the cables, just the large blades. The double-headed mode originally only used two smaller blades.